World
'It was a massacre': Anger and grief amid Peru's worst political violence in years | Peru
'It was a massacre': Anger and grief amid Peru's worst political violence in years | Peru
Thank you for reading this post, don't forget to subscribe!
Lisbeth Candia wept uncontrollably as she waited at Cusco's central mortuary to retrieve the body of her brother Remo, the latest protester killed by Peruvian security forces as the country experiences its worst political violence in decades.
"Let there be no more deaths, let him be the last," she said between sobs. "We don't want his death to have been in vain," she told the Guardian by phone.
She sat in the waiting room as medical examiners performed an autopsy on her brother's body Thursday morning. Remo Candia, 50, was rushed to Antonio Lorena City Hospital the night before with a gunshot wound to the abdomen, but medics could not save him.
"He was just exercising his right to protest and they shot him at point blank range," Lisbeth said.
A Sunday lunch was the last time she saw Urinsaya Ccollana's cheerful, popular Quechua-speaking leader farmer community in Anta province where the family lives.
A father of three – the youngest just five years old – Remo had led farmers from his village to join protests in the regional capital of Cusco, demanding the resignation of President Dina Bolwarte over the 41 civilians who died in violent clashes with security forces in just over a month.
The spiraling violence began when the former leader Pedro Castillo was forced out of office and detained on charges of sedition in early December after attempting to dissolve Congress and rule by decree in hopes of avoiding a third impeachment trial.
Bolwarte, his vice-president, succeeded him, but became quickly became unpopular after the police unleashed deadly violence on Castillo's supporters, which in turn fueled anger and incited new protests and blockades.
There was deep grief and anger in Juliaca, near Peru's border with Bolivia, as it swayed from the deadliest bout of violence during more than a month of anti-government protests. Under curfew, the city was subdued on Wednesday as thousands of mourners followed the coffins of at least 17 protesters and bystanders who were killed – without exception – by gunshot wounds.
Among the dead were a 31-year-old medical student who was helping an injured protester and a 17-year-old girl who was volunteering at an animal shelter.
The mortal remains of a policeman were also found in a burnt patrol car. His companion, who has head injuries, says they were attacked by a mob.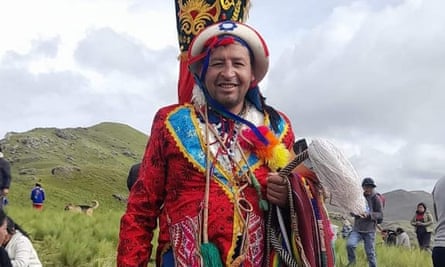 Candia was fatally wounded as protesters tried to storm Cusco's airport, the gateway to Machu Picchu, the country's most famous tourist attraction. Protesters have been demanding Bolhuarte's resignation, but analysts say the anger runs deeper and is rooted in a decades-old rift between Lima's political elite and marginalized indigenous and rural communities in the Andes and Amazon.
In Castillo, ex a teacher with no previous political experience, many rural Peruvians felt they had found a leader who represented them. Despite accusations of corruption and accusations that he surrounded himself with cronies and didn't understand how to govern, many rallied behind him as he faced off against a deeply unpopular opposition-led Congress and a hostile media.
In poor, mostly indigenous Puno, where nearly 90 percent of the population voted for Castillo in 2021 because of his promise to uplift the poor, Gov. Richard Hanko said dialogue with the Boluarte government was off.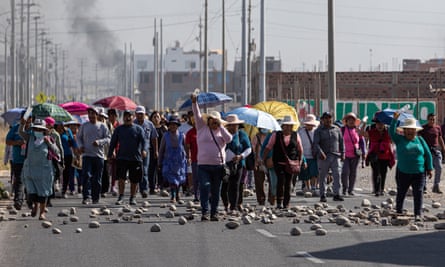 "For us, this is a murderous government. There is no value to life," Hanko said. "It is totally unacceptable for a government to cause more than 40 deaths and not have a single resignation.
Even by the standards of the security forces, Monday's violence represented a brutal escalation, said Javier Torres, editor of regional news bulletin Noticias Ser. "Our security forces are used to shooting at people, but I think here they have crossed a line that has not been crossed before.
"It was a massacre – I can't find another term to describe it," he added.
Omar Coronel, a professor of sociology and the Pontifical Catholic University of Peru, said Bolhuarte's government had formed a tacit coalition with powerful far-right lawmakers who portrayed the protesters as "terrorists," a return to Peru's internal conflict with the Shining Path in the 1980s and 1990s. Known as son in Peru this is a common practice used to dehumanize protesters with valid grievances.
"Police in Peru are used to treating protesters as terrorists," Coronel said. "The logic is that people who protest are enemies of the state.
Given the total distrust in political institutions and growing rumblings for Bolwarte to step down, the plan to push back elections by two years to 2024 is too far, Torres said. "If it goes on like this, it will be a protest followed by a massacre, and that's just not viable," he said.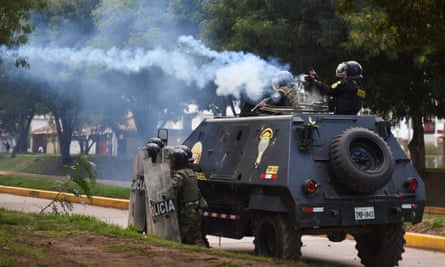 The United Nations Human Rights Office requested an investigation about the deaths and injuries, while Peru's attorney general's office has launched an investigation into genocide and murder in Boluarte and her leading ministers.
In the mortuary in Cusco, Lisbeth Candia wavered between grief and rage. "Why should so many lives be wasted just because this woman does not want to leave the government?" she asked.
"She has to go. We don't want it. We want her to pay for the death of my brother, for the death of so many," she said fiercely. "We want to live in a new homeland where we are not considered second-class citizens."

#massacre #Anger #grief #Perus #worst #political #violence #years #Peru